My name's Becky B.
and my blog is
Bibliognome
. I'm thrilled to be advocating for Four, the supremely awesome guy from the
Divergent
series by Veronica Roth.
*loud clapping and cheering*
* Okay now while reading this post just imagine that you have
You're the Best
the song from
The Karate Kid
movie playing full blast, I find that makes everything more dramatic/dauntless (just like
Divergent
and Four.) :)
Here we are again getting ready for another YA Crush Tourney. Everyone knows that there are a plethora of capable crushes in this tourney but I'm here today to tell you that Four is the crush that should rise to the top of this Tourney.
If you haven't read
the
Divergent
series here's my review of
Divergent
and
Insurgent
. I can't wait to read the last book and am crossing all of my fingers and toes hoping that the movie of
Divergent
will be as epic as the book.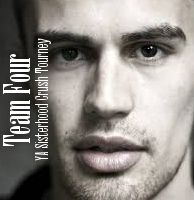 Look into those eyes and you should know without a doubt who to vote for.
#TeamFour
Here we see how Four sees himself, in Four's own quote from
Divergent
:
"Two things you should know about me; The first is that I am deeply suspicious of people in general. It is my nature to expect the worst of them. And the second is that I am unexpectedly good with computers."
Yeah, he's a little pessimistic but in the world of
Divergent
where
choice is everything once you choose a faction
be it
Abnegation
,
Candor
,
Dauntless
,
Amity
, or
Erudite
you have to follow their rules or you get rejected by society.
As the tagline for
Divergent
says,
"One Choice Can Transform You."
Four is definitely a guy that has transformed himself.
He is willing to sacrifice everything for the love of his life and he and Tris might just be the keys to changing the whole society.
Be Brave and make the right choice, Vote for Four :)
Fierce fighter almost no fear
I made a song for everybody to sing while they vote for/when they want to support Four, it's sung to the tune of
I Love You
aka that song from the Barney TV show:
Let's be Dauntless through and through,
and a plea from me to you,
Won't you say you'll Vote Four too!
Go and join the Team Four Crew,
and a plea from me to you,
Won't you say you'll Vote Four too.
Now make sure to
VOTE for Four
as much and as often as possible and let's take Four to the top of the YA Crush Tourney! :) Show your support on Twitter, Facebook, your blog, etc. You can follow me on Twitter at @GeckyBoz and make sure to use the #TeamFour tag so I can see all your tweets.