Hello everybody and welcome to The Book Blogger Buzz Tour. This tour was put together by Rachel at
Parajunkee.com
. Today I'm happy to feature a post from Terri at
Second Run Reviews
.
Terri M. LeBlanc, owner of
Second Run Reviews
and host of
Rewind Review
, has been an avid reader most of her life. She is grateful to her elementary school teachers for introducing her to Ramona, Laura Ingalls Wilder and the Pevensie children. In her spare time she is
a photographer
,
a movie devotee
,
cowgirl
& T.V. fanatic. She is currently helping to plan
ICON 39
, Iowa's Longest Running Sci-Fi & Fantasy Convention.
---
Second Run Reviews's Top 10 Must Reads
Or Books that Deserve More Attention
Read Me!
Lamb: The Gospel According to Biff,
Christ's Childhood Pal
by Christopher Moore
I have had a rough time sorting out my feelings about God and religion. Moore reminded that it's okay to laugh at God. I've shared this book with the conservatives and liberals in my life and all have found Moore's take on Jesus quite entertaining.
By the way, his name is Joshua. Jesus is the Greek translation of the Hebrew Yeshua, which is Joshua. Christ is not a last name. It's the Greek for messiah, a Hebrew word meaning anointed. I have no idea what the "H" in Jesus H. Christ stood for. It's one of the things I should have asked him. Me? I am Levi who is called Biff. No middle initial. Joshua was by best friend.
Read me!
Outlander
by Diana Gabaldon
I've been a fan of
Outlander
since the early 2000s. I travelled a lot in my first job out of college and a co-worker recommended this book to me. Why do I love
Outlander
? It has a little bit of everything--historical fiction (American, British and Scottish),
romance
, science fiction (TIME TRAVEL!), medical fiction, and military fiction. I've probably purchased this book 3 or 4 times as I willing hand over my copy to anyone who is looking for something to read and doesn't know what to read. Oh, and this book goes across gender lines! I know men and women who have read it.
Oh, aye, Sassenach. I am your master . . . and you're mine. Seems I canna possess your soul without losing my own.
Read me!
The True Confessions of Charlotte Doyle
by Avi
Avi's
The Fighting Ground
is the first book I remember doing a book report on in 7th Grade. It also introduced me historical fiction and I attempted to get my hands on every book Avi ever wrote. This is how I discovered
The True Confessions of Charlotte Doyle
.
Charlotte's journey to America as the sole passenger on a sailing ship is harrowing. As a reader, you watch her grow and make the ultimate decision. One that takes courage and strength. With the high number of strong young women showing in YA fiction lately, it's great to share an older, award-winning novel with the same message.
A sailor chooses the wind that takes the ship from a safe port. Ah, yes, but once you're abroad, as you have seen, winds have a mind of their own. Be careful, Charlotte, careful of the wind you choose.
Read me!
A Ring of Endless Light
by Madeleine L'Engle
While it is the only book I've ever read in L'Engle's Austin Family series, and it is the one L'Engle that has stuck with me. The novel has everything a teenage girl could want--sadness, two boys to fall in love with and dolphins. For me this book handles sickness, death and grief in a heartfelt and true way. The book is a good reminder that even in the face of tragedy, you need to remember who you are and let go.
It's hard to let go anything we love. We live in a world which teaches us to clutch. But when we clutch we're left with a fistful of ashes.
Read me!
Shade's Children
by Garth Nix
Probably the first dystopian book I've ever read.
Shade's Children
is gritty novel told in a series of normal chapters intercut with transcripts from archives. What stands out most about this novel, for me, is that it is so different from Nix's
Abhorsen series
.
If an action must be taken that will benefit the majority at the cost of the minority, is it morally indefensible?
If an action taken for the benefit of a majority occurs at the expense of a minority, is it moral action?
Read me!
The Princess Series
by Jim C. Hines
Fairy Tale Re-Tellings are in vogue right now and I don't think enough people know about The Princess Series by Jim C. Hines. Hines takes Cinderella, Sleeping Beauty and Snow White and makes the warriors--strong women with modern sensibilities and kick-ass fighting skills. This series is for those who fell in love with Disney's Princesses, but want a bit more punch!
The last book in the series is a retelling of The Snow Queen! So take that Disney!
None of us live happily forever after. But we can choose to be happy today. Jim C. Hines, The Mermaid's Madness (Princess #2)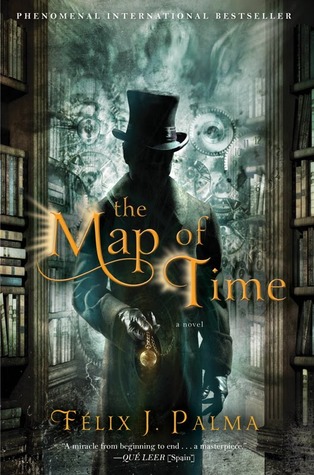 Read me!
The Map of Time
by Felix J. Palma
This book was a complete and utter surprise. First off, I won a copy of this book via GoodReads First Read's program and I win so rarely, I stopped entering. The summaries for the book do not do this book justice. It took me on a wild ride through time that did not let up until the end. Is time travel real? What happens when you change history? All of these questions are woven via THREE marvelously crafted distinct stories that once you start reading you won't be able to put down.
He had learned from experience that what he succeeded in putting down on paper was only ever a pale reflection of what he had imagined, and so he had come to accept that this would only be half as good as the original, half as acceptable as the flawless, unachievable novel that had acted as a guide, and which he imagined pulsating mockingly behind each book like some ghostly presence.
Read me!
O! Pioneers
by Willa Cather
One of the few classics I can claim to have fallen in love with. In 10th Grade we were reading some of Cather's works and Hallmark Hall of Fame happened to show its adaptation of this novel. I fell in love with Alexandra Bergson, a strong midwestern woman who puts family first. And when I picked up the actual novel I found it very accessible for being considered a classic. There's great love stories in the novel and the people seem so very real that when I visited Red Cloud, Cather's home town, a couple summer's ago I practically expected Alexandra to come striding
across the plains
to meet me.
Hallmark's adaptation is a faithful to the novel and stars Jessica Lange, David Strathairn and a young Reed Diamond.
And now the old story has begun to write itself over there," said Carl softly. "Isn't it queer: there are only two or three human stories, and they go on repeating themselves as fiercely as if they had never happened before; like the larks in this country, that have been singing the same five notes for thousands of years.
Read me!
The Chronicles of the
Imaginarium Geographica series
by James A. Owen
Fans of every fantasy novel out there from
The Hobbit
to the Harry Potter series should read The Chronicles of the Imaginarium Geographica series by James A. Owen. Artists should read the series. Lovers of books involving time travel should read it. Okay, everyone should read it! This is a wonderful series of books that draws on many of the known myths and histories laid out in our most treasured fantasy and science fiction stories. Not only is the storyline gripping, but the artwork at the start of each chapter is stunning!
"It is the world, my boy," he said. "All the World, in ink and blood, vellum and parchment, leather and hide. It is the World, and it is yours to save or lose."
Read me!
What Dreams May Come
by Richard Matheson
In my opinion, this is probably an underrated movie as well. And this is another case of, I read the book after I saw the movie and fell in love with both. I think perhaps I love this book for similar reasons that I love
Lamb: The Gospel According to Biff, Christ's Childhood Pal
. Where "Lamb" helped me to learn it was okay to laugh at God,
What Dreams May Come
taught me it is okay to be angry with Him, too. Matheson weaves many different religious beliefs into the ultimate love story...someone literally traveling through Heaven
and
Hell to be with their true love. The book is philosophical and moving. And while the movie adaptation took some liberties, visually it's stunning as well. Matheson may perhaps be best known for his science fiction novels, but this is a nice departure that shows the connections between us all.
Heaven would never be heaven without you.
All book images are courtesy of GoodReads.